You
may have noticed the cute alpaca in our logo, but did you know she's actually real – and has lived on my farm for the past 14 years? 
Her name is Pink and she's been one of my favorites since she was born.  This photo was taken when she was just about 2 weeks old and it made for the perfect addition to our logo.
Pink has always been an extremely friendly girl.  Not typical for most alpacas;  people never scared her the way they do most alpacas.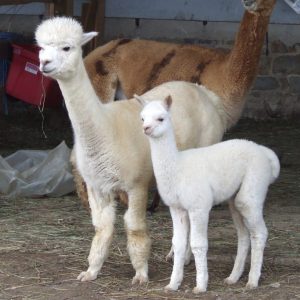 Pink has given us several really nice cria over the years and has been an excellent mother.  Luckily, her offspring have had her easy-going demeanor as well, so she's what I'd consider "a keeper".   
At 14 years old, Pink could certainly have more babies, but her line is abundant in our herd so we are now breeding her grand-children and soon, her great grand-children.  I expect that her line will live on in our herd forever. 
Today, Pink is content to just hang out on the farm.  But when visitors come, she's the first and often the only one who wants to join the group.  Kids seem to be her favorite, and as you can see, it really doesn't matter how many there are. 
If you ever visit Central Pennsylvania, give me a call.  I'm sure Pink would love to meet you!